Young Believers (YB's)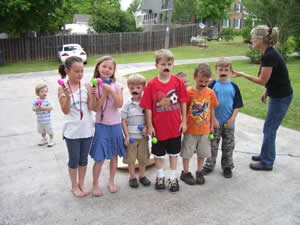 Young Believers (YB's) is the children's ministry (ages 3 to 12) at Irwinton Toomsboro UMC and is where kids and their families connect with God's Story so they can love like Jesus and make a difference in their world.
Our Church believes that every child is an enormous gift, and that our children's ministry is a great responsibility. We are committed to providing a safe and secure environment, utilizing age-appropriate lesson plans with Biblically-based curriculum.
The vision that fuels our work with our YB's grows out of Jesus' words in Mark 10:14, "Let the little children come to me, and do not hinder them, for the kingdom of God belongs to such as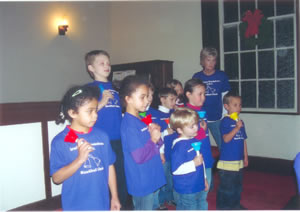 these." In the midst of a consuming ministry to adults, Jesus regularly ministered to children. We believe the future of the church depends on effective ministry to children today by connecting a new generation with Jesus Christ giving children HOPE and WHOLENESS and opportunities for WORSHIP and MINISTRY.
The YB's meet every Sunday afternoon from 4:30pm to 6:00pm at our Irwinton campus for Fun, Food, Crafts, Music and Worship!



On the first Saturday of each month, our Clothes Closet come to life. This project is headed by Robin Mills. Donated clothes are offered to the community free of charge to those in need. This is an opportunity to provide an outreach to those in the Wilkinson County area who may need a helping hand. It is also an opportunity to provide the love of Jesus to those who are in most need of his love.

Clothing donations and additional volunteers are always welcome.



Similar to our Clothes Closet, our Food Pantry is available to to all those in need. Basic food items are available to any who may need help in providing food for their families. Canned vegatables, canned meats and dry food are available. Vickie Shulsted heads up this ministry. If you are in need, please contact the Church Office or our pastor.
Again, Food donations are what makes this important ministry possible. By spending just a few dollars extra each week when you buy your families groceries, YOU CAN make an impact on some families life!




THe Irwinton Toomsboro United Methodist Church Craft group meets every Wednesday morning at 10:00am on our Irwinton Campus. This group worships and praises God through the creation of numerious Arts & Crafts. This group also participates in Project Linus where they meet to make blankets that provide love, a sense of security, warmth and comfort to children who are seriously ill, traumatized, or otherwise in need.
The Craft Group holds a Bazaar each Fall where they sell the many items they have made over the year for the Glory of God and the Love of Jesus. A highlight of the Bazaar is the annual drawing for a handmade quilt that goes to some very blessed person.


The Irwinton Toomsboro United Methodist Church is a strong mission minded church. Our church has sponsored and participated in many national and international missions. We have worked through several Methodist Mission ministries including Unto the Least of His and the United Methodist Volunteers in Mission (UMVIM).
Among the places we have sent mission teams are New Orleans, Albany, Ga., North Carolina, Honduras, Costa Rica, Africa and most recently Cuba. Our latest sponsored mission was to Havana, Cuba where members of our church did constructon and renovation work on a new Methodist Seminary that will train Cuban Methodist pastors to meet the special needs of the Cuban Church and its members.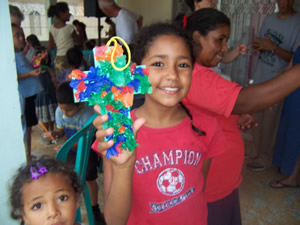 Besides the important work our teams do in the construction area, perhaps our most important work comes from interacting with those we have come to serve. Many times we have run Bible schools for the children of our host church. Seeing the joy of children as they make a tissue paper cross or listen with total attention to a Bible Story is hard to describe. Many times, we will come together one on one with one of the locals, and despite there often being a language barrier, a sharing of testamonials about the love of Jesus and they way God works in each of our lives. Listening to a New Orleans homeowner talking about the horrors he saw in the days right after Hurricane Katrina and tells you how his prayers to God brought him and his family through the disaster.
We would like to invite you to come and join us on our next mission. Whether this will be to the Gulf coast, Central America or even another trip back to Cuba. . . .We can only tell you your life will be changed by spreading the word of God to those in our Mission fields!