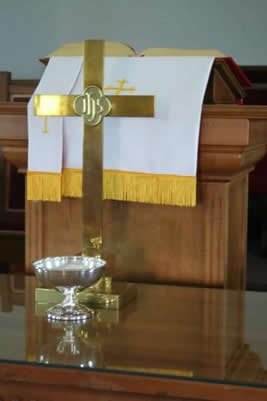 Welcome!
Thank you for visiting our site. On behalf of everyone at Irwinton Toomsboro United Methodist, we want you to know that we are committed to meeting the needs of people, wherever they are in life. People matter to God and they matter to us.
We are a local multi-campus church that opens hearts, opens doors, and opens minds through active engagement with our world. We are doers. Committed to social justice,ending hunger, eradicating diseases of poverty, and being the healing faith community as God calls us to be. We accept you for who your are, and guide others searching for deeper meaning. We respect other religions and welcome diverse opinions. We offer many ways to experience church so you can find a journey you can call your own. We aren't striving to be all the same, but we are striving to work together to make a significant difference in Wilkinson County and the world through the love and power of Jesus Christ.
We are dedicated to become a faith community so filled with the love of Christ that all members will actively share the Gospel with others in such a winsome and magnetic spirit that they, too, will make a personal commitment to Christ, join the fellowship of Christ's Church, and become active, growing disciples.
God is doing some very exciting things in the hearts and lives of the people who call this their church home. So, come discover why you and your family will look forward to each and every Sunday at Irwinton Toomsboro UMC. Who knows...it could change your life!



Pastor Mike Bankston

Mike and Jenny Bankston are excited about serving the people of Wilkinson County. Mike brings an exciting approach to ministry with an emphasis on teaching and serving the community through local outreach. Mike believes in a strong message and teaches an in depth Bible study on Sunday mornings at 9:45.

Mike and Jenny have been married since February 2002. Jenny teaches with Central Georgia Technical College. Mike and Jenny would like to invite you visit us on Sunday morning for Sunday School and 11:00 am service or come and see us Sunday night at 6:00 for the Gathering at Irwinton. The Gathering is an informal Sunday night service that offers a variety of music styles, message formats, and testimonies. Come check us out!


At Irwinton Toomsboro Salem UMC has many activities help you connect with other Christians and grow in your relationship with Jesus. For a complete listing of our all activities please visit our Events Calendar.
1st and 3rd Sundays @our Irwinton Campus

2nd and 4th Sundays @our Toomsboro Campus

9:45am Sunday School
Join one of our classes to learn more about how God works in our lives.

11:00am Worship Service

Our anchor worship experience is the Sunday service. There, we meet together to worship God and learn more about Him. There's great music, talks on relevant issues that can be easily applied to your life, and the joy and excitement of being in Godís Presence with a loving congregration. We hope you will experience it for yourself this Sunday.

Every Sunday @our Irwinton Campus

6:00pm The Gathering
The Gathering is an informal Sunday night service that offers a variety of music styles, message formats, and testimonies. Come check us out!.

2nd and 4th Sundays @our Salem Campus

3:00pm Worship Service

Join us at Salem for traditional experience of worshiping of a truly country church where you can feel the presence of Jesus. Salem is one of the oldest churches in Wilkinson County and it is a truly blessed experience worshiping God here. Make sure you visit the historic Salem Cementary and the Old Church Spring for a sip of great water.

Bible Studies thru the Week

Join us one of our many Bible Studies we hold each week. These are on various days and times so that you might find the perfect study group for you.

Tuesday's @ am Irwinton Campus
Additional Bible Studies To be Announced




One of the most frequently asked questions relating to the topic of church membership is, "Why should I become a Member? Can't I just go to church and participate in all the activities without having to make a commitment?"

The last word in that quote is the first reason to join the church — COMMITMENT.

We ask you to commit to membership for 4 reasons:
1. A Biblical Reason: Christ is committed to the church.
" …Christ loved the church and gave Himself up for her." Ephesians 5:25

2. A Cultural Reason: It is an antidote to a lack of commitment in our society.
We live in an age where very few want to be committed to anything…job…marriage… church. This attitude has produced a "consumer religion." Becoming a member, on the other hand, is an unselfish decision. Commitment like this builds character.

3. A Practical Reason: It defines who can be counted on. Every team must have a roster. Every army has an enlistment. Membership says you can count on me.

4. A Personal Reason: It produces spiritual growth. The New Testament places a major emphasis on the need for Christians to be accountable to each other for spiritual growth. You cannot be accountable when you're not committed to any specific church family. Membership is a door of opportunity. A door that leads to greater growth, identity and fulfillment.
We invite you find out more about us, why we do what we do, our beliefs, our vision and what is expected of members by attending one of our services or Bible Studies or by contacting us for additional information.